Hainan Qinfu Food Co., Ltd.
Upload time: 2019/5/21 11:31:56 Browse the number: 2121 times
  Hainan Qinfu Food Co.Ltd. is a modern aquatic product productionprocessing and export enterprise which integrates aquacultureprocessing and marketing. It is located on Wenqing Avenue in Qinglanxin City of Wenchang City. It was invested and constructed by Hainan Qinfu Industrial Co.Ltd. in 2007 with registered capital of 20 million yuan and total investment of 80 million yuan. The company covers a total area of 48000 square metersincluding 6800 square meters of plant area3800 square meters of production workshop area and 1100 square meters of refrigeration area. The factory building of the company is designed and constructed in accordance with the latest international food enterprise standards. It has introduced advanced equipment at home and abroadcomplete supporting facilities and annual production capacity of more than 20000 tons. The main products are: frozen tilapia filletsstrips of frozen tilapia. Products are mainly sold to the United Statesthe European UnionMexicoRussiaAustraliathe Middle East and Africa and other countries and regions. The company operates wellwith sales of 70 million yuan in 2010 and profits of 3.5 million yuansales of 110 million yuan in 2011 and profits of 3 million yuan.
  In strict accordance with HACCP quality management systemEU and US FDA health registration requirementsthe company has established a rigorous food safety traceability system. The company is equipped with advanced testing centerswhich are designed and established in strict accordance with ISO/IEC17025 "General Requirements for Testing and Calibration Laboratory Capability". All kinds of testing equipment and facilities are completewhich can quickly and accurately detect raw materials and finished products to ensure product quality and safety.
  Hainan Qinfu Industrial Co.Ltd. has more than 20 years experience in tilapia culture. It is the largest tilapia culture company in Hainan Province. The company strictly operates and manages in accordance with the model of "company + base + standardization". There are more than 6000 mu of tilapia ponds and 10000 mu of cooperative farming. Four of these farming bases belong to the "National Agricultural Standardization Demonstration and Aquaculture Base". One farming base is the only national level "Export Food and Agricultural Product Quality and Safety Demonstration Zone" in Hainan.
  In accordance with the enterprise purpose and management concept of "diligentrich and moral"the company provides delicioussafe and healthy high-quality aquatic food for consumers all over the world as before.
  It is hoped that through participating in the selection activities of "Ten Consumer Brands in Food Industry" projectenterprises will enhance their own capabilities under the full play and utilization of brand strategyso as to make enterprises better contribute to promoting the economic development and agricultural income growth of the province. After years of careful managementthe company has been recognized by people from all walks of life and has also won many honors:
  Annual Honorary Name Issuing Unit
  In 2003Hainan Provincial People's Government issued the key leading enterprise of agricultural industrialization in Hainan Province
  In 2004the advanced unit of Wenchang Agricultural Leading Enterprise was awarded by Wenchang Municipal Committee and Wenchang Municipal People's Government.
  2005 Hainan Provincial Award for Contribution of Agricultural Products Transport and Marketing
  In 2006Wenchang Municipal People's Governmentan advanced unit of scientific and technological progressawarded it
  2007 First Prize of "Large-scale Promotion" of Pollution-free and High-yield Tilapia Culture Technology Awarded by Hainan Provincial People's Government
  Certificate of Pollution-free Agricultural Products issued by Agricultural Product Quality and Safety Center of Ministry of Agriculture in 2008
  Membership Certificate of Hainan Fishery Circulation and Processing Association in 2009 issued by Hainan Fishery Circulation and Processing Association
  2010 China Aquatic Circulation and Processing Associationthe most influential tilapia enterprise in China
  2010 Wenchang Municipal People's Government of Wenchangan important leading enterprise in agricultural industrialization
  GAP Certificate issued by China Quality Certification Center in 2011
  BRC Certificate 2011 Moody International Certification Group
  Certificate of Organic Conversion Products in 2011 Beijing Zhongliao Certification Center Co.Ltd.
  2011 Hainan Provincial People's Government of Hainan ProvinceKey Leading Enterprise of Agricultural Industrialization
  2012 HACCP Certificate Issued by the State Authentication and Licensing Administration
  Accreditation Certificate of Accreditation of Accreditation of Accreditation of American Aquaculture in 2012
  China National Accreditation Committee for Conformity Assessment of Laboratory Accreditation Certificate in 2012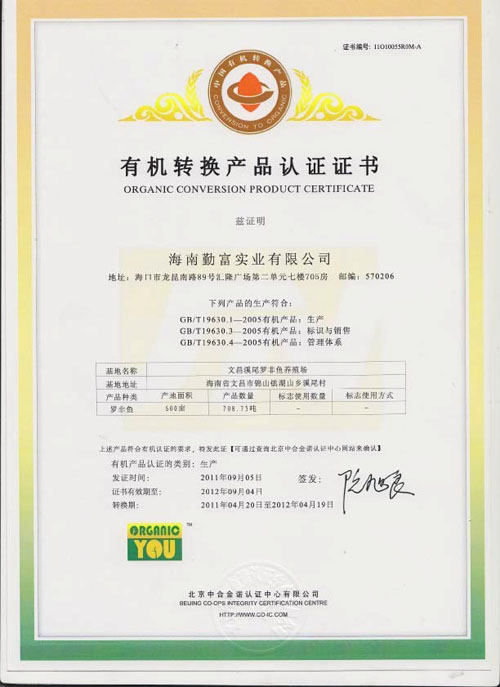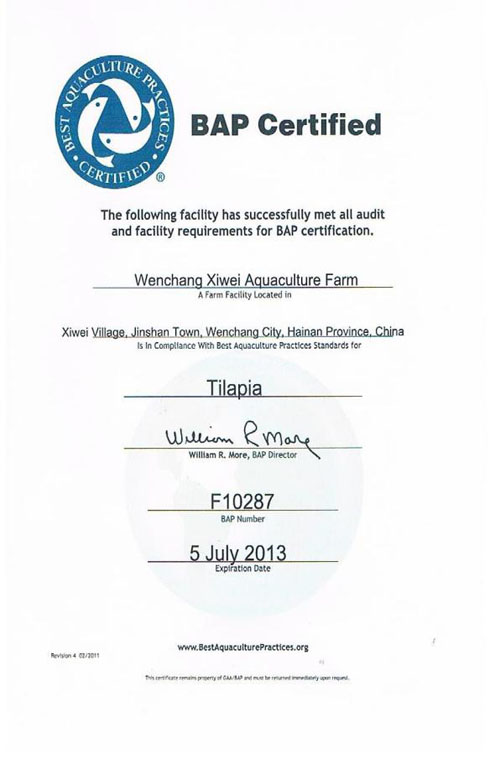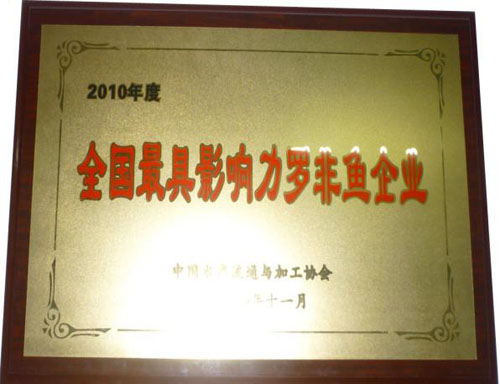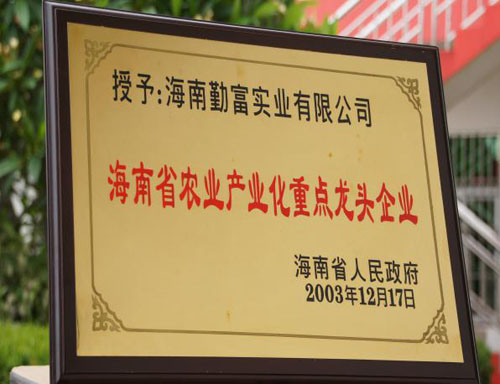 Source: Hainan Top 10 Consumer Brand Enterprises in 2012